Items For Immediate Attention
SAG and PNWADG

t t COMC.com and Tim Getscht t
New host of the SAG and PNWADG
6727 185th AVE NE, Redmond, WA.
Registration begins at 6
Meetings start at 6:15 PM ... PNWADG wraps up about 9:30
Pizza and networking break starts between 7:30 and 7:40
ll April Features ll

6:30 Upsizing to SQL Server - by Willie McClure, Datarim, April 16, 2014
~7:45 Show and Share our Favorite Tools and Techniques
- so bring YOUR demos!! Details below
- Send Automated Emails without Security Warning By Vicki Schweickart
- Custom Upsizing Tools -- From Access to SQL Server, by Willie McClure
- Other topics and presenters to be announced on Wednesday --
It's time to Show n Share - so bring your laptop and files. Pre-Register your demo
New Access Team Blog -- Focused on Support Issues (April 2014)
We have another resource for researching and resolving issues that have been reported to the Microsoft Access team. This blog will share posts by the Microsoft Access support team about issues that they are/have been working on. It's a little bit of a "one way street" - in that the topics and content are selected and provided by the team, but you can have confidence in the content when you are trying to resolve an issue that they have covered. So … you can add this to your list of Favorites >> Access Resources

Need Test Data -- Check out GenerateData.com (April 2014)
Open source tool that allows you to generate limited or large volumes of data in a variety of formats. In addition to the free tool, you may also choose to make a donation and leverage their resources to generate up to 5,000 records at a time. This is used and recommended by fellow Access MVPs, so let me know what you think … ;~S

PAUG 2014 Database Designer International Conference at Silver Falls (April 2014)
Sold out for 2014 --- so mark your calendar for 2015 registration -- opens 1/1/2015.
http://www.paug.com/Conference.asp
Several new links to Training, Conference sessions and other resources -
Details Below and at SeattleAccess.org
*Anyone can build a SharePoint App with Microsoft AccessAnyone can build a SharePoint App with Microsoft Access (from SPC204)
*Rich extensions to SharePoint Apps using Microsoft Access (from SPC335)
*The 'how to' guide for selling and managing SharePoint Apps built using Access (from SPC338)
*Update on InfoPath and SharePoint Forms (from SPC 348)
*Virtualizing your data center with Hyper-V and System Center
*Success with Hybrid Cloud
*Digital Copyright Template

ll Upcoming Presentations ll

Harnessing the Power of Queries - Leveraging subqueries and worktables
Demos of Current Projects -- Likely, four 15 minute demos to show, share and ask … How about YOU??
Indexes -- leveraging Access features to optimize performance
Third Party Tools -- Short demos and discussions of YOUR favorites. We need a few volunteers. Ready to sign up?

Logical Database Design – Building Sound Table Structures,
By Mike Hernandez, Consultant, Trainer, Presenter, Renaissance Man

Bring your laptop or files so that you can share with the group:
t Q&A -- Bring your questions, database files.
t TIPS -- Share a favorite or new technique or tip.
t Web Apps -- Working on a Web App? Share your questions, highlights and goals with the group.
t Windows 8 Features and Apps - Share your "favorites" with the group,

Have a presentation suggestion or request?
Email topic suggestions and details to Teresa@DataDynamicsNW.com

t Professional Access 2013 Programming t
by Teresa Hennig, Ben Clothier, George Hepworth, Doug Yudovich !!!!!
Order our Access 2013 book from Wiley
ll BOOK SIGNING -- Professional Access 2013 Programming!! ll
The books are HERE! … 8 Winners received signed copies at the meeting ;~S You can also request your signed copy from Teresa or check out the book at: www.wiley.com/go/proaccess2013prog
Excerpt from announcement
"This was truly an MVP achievement!!! We must have set a record for the number of Access MVPs on a book team -- including many of you. As more people were recruited to ensure the caliber and content, I created new roles and convinced the publisher they are such an integral part of this team that they should ALL have their bios in the book! You've GOT TO check them out!!! Here's the team … do you recognize everyone???
An excerpt from the Intro:
Written by a team of Microsoft Access MVPs, this book leverages our expertise and passion for Access. In expanding the reach of Access, we incorporated the knowledge and experience of over a dozen experts to consult, test, and provide examples working with SharePoint, SQL Server, .NET, and web development. And to make sure that we could provide a model for a robust business solution, we worked closely with the Microsoft Access team to be at the forefront of defining, testing, and implementing the new features for Access 2013 web apps.

t t Calendar Year Dues -- $30/group or $45 Both groups t t
Annual membership is only $30 for one group and $45 for both groups! That's right -- BOGO 50% off!!! This may be the deal of the decade. The cost of dual membership is LESS than it was in 2008 -- but the value of the tips, tools, resources and networking is *priceless.*
Dues may be paid at the meeting or contact Teresa for mailing instructions.
… Paid Members participate in Drawings and Product Reviews! Please make checks payable to PNWADG and use the memo line to identify the member name and group(s).

Tips and Discussions and Events


Office 365 Home -- $99/year for five installs! Feb 2014
Wondering what that includes? A picture's worth a thousand words …
<![if !vml]>
<![endif]>
YES … ACCESS!!!! And Yes, that is Skype to landline calls … So, what are you waiting for?
http://www.microsoftstore.com/store/msca/en_CA/pdp/Office-365-Home-Premium/productID.286397700

Download Microsoft Office Professional Plus 2013
Get the full featured version for a 60 day trial period. Download

*Digital Copyright Template by Tech Pro Research (March 2014)
We are awash with digital programs and content to support always-on connectivity, the blending of consumer/business devices and increased local/remote storage capacities. The Tech Pro Research digital copyright policy will help organizations seeking to set guidelines for digital programs and content.

*Anyone can build a SharePoint App with Microsoft Access (from SPC204) (March 2014)
Come to this session to learn how power users can easily and quickly build SharePoint apps with a full SQL back end without writing any code. You'll learn how to create rich UI SharePoint apps using Access with low to no involvement or impact from IT.

*The 'how to' guide for selling and managing SharePoint Apps built using Access (from SPC338) (March 2014)
SharePoint applications created by Access are real SharePoint apps that you now can put in the Office Store. These no-code data centric web apps are part of Office 365. To make the publishing of these apps complete, Access has added features to help you deploy upgrades to existing apps. So you can deploy new versions of an app in production without losing their data. See a demoin the session video.

*Update on InfoPath and SharePoint Forms (from SPC 348) (March 2014)
This InfoPath session shows some of the Access team's very early work in this space with Access. It provides an introduction to the vision and roadmap for the Office Forms


* Microsoft Virtual Academy - Free Course

(March 2014)




Virtualizing your data center with Hyper-V and System Center

-

Learn how


Whether you're new to virtualization or have some experience, explore this free online training to build your infrastructure from the ground up on the Microsoft stack using System Center (IT Focus).



* Learn about Hybrid Solutions

(March 2014)




Success with Hybrid Cloud


Workload spikes can wreak havoc on your organization's infrastructure. Learn about a Hybrid technique called cloud bursting that allows the enterprise to expand its capacity and get started with Windows Azure.

Read more

Start your Windows Azure trial



Veeam --

Modern Data Protection™ -- Feb 2014
Whether you use VMware vSphere, Microsoft Hyper-V or a combination of both, Veeam® Backup™ Free Edition is a perfect fit for your environment. No matter how you do regular backups, Veeam Backup Free Edition is the must-have tool for managing your VMs.

http://www.veeam.com/free-vm-backup.html

Wondering if you need business insurance? Feb 2014
We've had this topic come up in the past, so I'll take this opportunity to share some excerpts from a discussion where George Hepworth shared some of his knowledge based on his experience of writing training materials for an insurance company. Things to consider:
1. There is a difference between commercial general liability coverage and Errors & Omissions coverage.
a. Commercial liability coverage protects against things like starting a fire that destroys a customer's premises. However, it will not pay nor provide legal defense if when sued for defects in software you deliver to that client.
b. Your E & O coverage will protect you against lawsuits for things like failure to deliver the software you contracted to provide as well as defects in that software.
2. Every business (likely) needs commercial liability coverage; professionals providing services may also need E & O.
3. Personal liability coverage typically excludes any claims arising out of providing professional services; you need commercial and E&O coverage regardless of whether you have any personal coverage.
4. At times, the legal defense provision of liability coverage can be at least as valuable as the indemnification provision. That's because the insurance company will either:
a. pay a claim (up to the limit of insurance) on behalf of a policyholder when it deems the claim to be valid, or
b. provide legal counsel to defend the policyholder if it deems a claim to be invalid.
The amount spent on such defense can be considerable and is separate from and in addition to any judgment amount awarded against you by a court. That's good and bad, of course. There is an incentive for the insurance company to minimize its overall costs (defense + indemnification), so the insurer may settle a claim against a policyholder rather than drag it out in court while the lawyers' fees spiral. The indemnification amount is often less than it would cost to go to court, where you'd still risk losing the case—and have to pay the claim-- anyway after incurring huge legal bills.
5. If a client requires you to provide proof of insurance, it might be good to clarify whether they are interested in general commercial liability or E&O coverage. The former won't help you if your database causes loss of income due to inadequacy in design or development. The latter will.
Thank you George.

Access Blog – by the Access Team --- one of the top blogs on MSDN!!!
Stay tuned to the community … The team shares insights into their schedule, their favorite features, new features and how to use them. This is also an ideal avenue for the team to talk about issues that are of interest to the Access community. You'll learn about the people and some of the factors that are helping to shape the future of Access. Whether you're a seasoned developer or just learning about Access, you'll find invaluable information and techniques. From creating a database template to getting help when you need it, The Access Blog covers the gamut.

Meeting Files and Materials
Presenters are encouraged to provide slides, demos and other files that members can download from the SAG website. These can be excellent resources for learning about new features or techniques and figuring out how to incorporate them into projects. If files or links are available, they will be posted on the Seattle Access website.
As we gain experience with Live Meeting, we will record and share links to select sessions.


* * * * * * * * * * * * * * * * * *
? ? ? Want to receive the newsletter by email? ? ? ?
Please ensure that you have specified the domain DataDynamicsNW.com as a Safe Sender in your local AND in your online email provider/service. Several accounts/servers have rejected the newsletter as spam due to the number of links to content. So, you may need to adjust the settings via your online (Comcast, gmail, hotmail, etc) or business email provider.

* * * * * * * * * * * * * * * * * *
Standard Monthly Meeting Format
In general, each group will have about 75 minutes for their meeting; including general announcements, Q&A, and the main presentation. In order to best server our members and presenters, the start and end times will vary based on the specific circumstances.

We invite everyone to join us for pizza and networking. Dues are voluntary and help offset meeting costs. We ask those who have not paid dues to contribute $5 per evening.
* * * * * * * * * * * * * * * * * *

Downloads and Resources - Lots of new Links


Access 2010 Programmer's Reference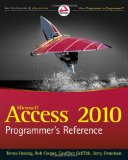 By Teresa Hennig, Rob Cooper, Geoffrey Griffith and Jerry Dennison, contributors and editors, Armen Stein, Jeff Boyce, Albert Kallal, Doug Yudovich, Ben Clothier. Tips contributed from our esteemed colleagues Dane Miller, Garry Robinson, Steve Schapel, and Larry Strange.
Contact Teresa for a signed copy -- or order from Amazon with Teresa's link.

Limited Time Offer for a Free Chapter
Chapter 7, Using VBA in Access
(provided by Wiley Publishing, who retains the copyrights for this work.)

This book focused primarily on traditional Access deployments with local (vs web) deployments. So the content, examples and code provide invaluable guidance for Access 2013 client/server solutions.

EARLY REVIEW: "I have to say that you have surpassed yourself with the Access Programmer's Reference this time. Very, very nice. I usually use books like that for reference, to look up stuff when I have a question, but in this case I have literally been reading it in large chunks and finding it hard to put down. Especially the new Access 2010 functionality, I have already learned heaps.
So thanks a lot for that, I just wanted to let you know that I am mighty impressed with this one. :-) " Steve Schapel, Access MVP

Our Book on Database Models!
Microsoft Access Small Business Solutions, : State-of-the-Art Database Models for Sales, Marketing, Customer Management, and More Key Business Activities

Written by an unparalleled team of Access MVPs-
Co Authors: Teresa Hennig, Truitt Bradly,
Larry Linson, Leigh Purvis and Brent Spaulding

Contributors and Tech Editors: Jerry Dennison, George Hepworth and Doug Yudovich;

Tech Editors: Arvin Meyer and Armen Stein

Limited Time Offer for a Free Chapter
Chapter 4, People, Organizations, Addresses
(provided by Wiley Publishing, who retains the copyrights for this work.)

Arguably the most comprehensive compilation of guidance and database models available. In addition to the printed material, the companion CD provides 76 files, including 31 databases.
An invaluable resource for the business person -- those who know their industry but may not have experience with Access. With this book, they can design a custom database with confidence! The book is also full of amazing tips that will give experienced developers an edge, especially when expanding into new areas. Plus, the Bonus Resource database is filled with tools and tips that can be incorporated into your projects - and become the foundation for your custom toolbox.

Learn how to design properly normalized database models for dozens of business applications. -- ORDER HERE!
Teresa,
I love your books. I have them all.
RibbonX 2007 helped me creating stunning ribbons for my Access applications. Mudhafar July 2010

RibbonX Customizing the Office 2007 Ribbon


By Robert Martim, Ken Puls, Teresa Hennig
Order NOW from Amazon

The best book on the subject ... and the content is still valid for 2013!

From the fundamentals through complete examples for Access, Excel and Word, this book provides the information and walks you through the steps to customize and create Ribbons in all three programs.

Limited Time Offer for a Free Chapter
Chapter 17 - Security in Microsoft Office
(Provided by Wiley Publishing, who retains the copyrights for this work.)
Although written primarily for 2007, most aspects apply to 2010 and 2013, plus several areas are applicable to Office 97 through 2003.

More excellent tips on working with Excel, visit site of co-author Ken Puls, Excel MVP.

Calendar Year Dues ...
Demonstrate your support and appreciation ...
Still only $30 each and voluntary!
Or Join BOTH groups for only $45!

Since we started collecting dues, neither group as ever imposed a dues increase!!!
Please support your groups by becoming a paid member and VOLUNTEERING ;~S
Members only drawings, downloads, software, reviews and more.